Different Types of Swings for Children
Share
Issue Time

2021/06/08
Summary
The choice of children's swings is becoming more and more diversified. There are different types from swing frames to swing seats. This article will specifically introduce these different types of kid's swing sets.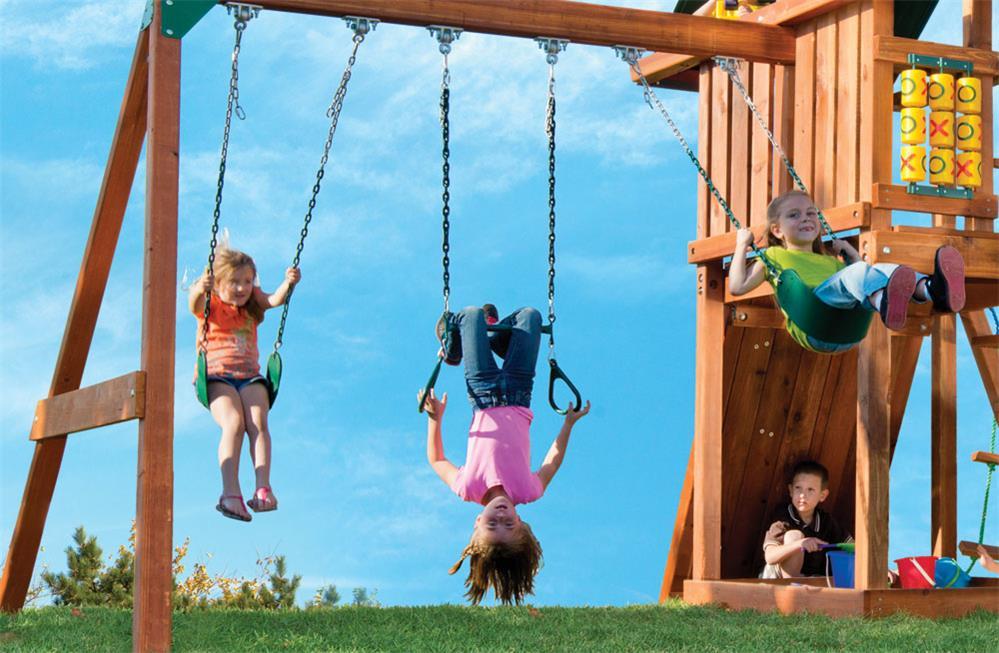 Kids' swing sets
have been around for centuries. With this outdoor play equipment becoming safer and with modernized designs there are many options now available. The following introduces these different types of swing frames and swing sets.
Different Types of Swing Frames

Free-Standing Swing Frames
Free-standing frames are more ideal for backyard playgrounds as there is no digging or concrete involved.
By using a free-standing swing frame, no digging or concrete is needed because the structure stands freely on the ground.
It is important to use ground anchors with these types of playground swing frames, as this will ensure the frame doesn't flip over or move– making it safe.
The twist-in ground anchor is specifically made for anchoring the frame directly onto your yard. These anchors can stand all soil conditions and offer tremendous stability.
(1)Bipod Frame
The bipod frame uses 2 posts on each end for support. The two posts form a "/\" shape, which is why the bipod is typically referred to as an "A-Frame". Can be constructed of either metal or wood.
(2)Tripod Frame
Tripod frames us 3 posts on each end for support "/|\" and is better for multiple swings, as this frame can support more weight. It can be constructed of either metal or wood.
In-Ground Swing Frames
This type of outdoor swing is cemented into the ground and usually found in public playgrounds and commercial facilities. Yet, this model can still be used at home for a more permanent and robust structure.
These frames are normally made of metal posts (although wood can be used in some frame types) and will sometimes have steel plates attached to the top corners for additional support.
They come in all frame types that the free-standing swings do, but here are some out swings frames specifically for in-ground.
(1)T-Post
A single pole (or wooden post) cemented into the ground with another pole centered horizontally on top forming a "T" shape.
(2)Arch Post
A curved metal arch supports each end of this swing frame.
(3)Single Pole
A single metal pole (or wooden post) supports each end of this swing frame.
Different Types of Swing Seats
Tire Swing Seat
This swing seat is an actual motor vehicle tire with a strong rope or chain tied to the tire and hanging from a tree or other solid structure. It is usually seen in backyards and exudes traditional home appeal.
Bucket Swing Seat
The bucket swing seat is considered the most reliable type for children. Holes found at the base fit securely into the child's legs and provides enough support for sitting. The bucket secures the waist so the child does not overturn while swinging. However, parents need to help their children get in and out of this model.
Half-Bucket Swing Seat
The half-bucket is similar to the bucket seat. The half-bucket seat often comes with a safety chain across the front part to keep toddlers safe. Aside from the protection, they have more freedom to move, unlike the full bucket model. It still prevents children from falling out of their seats. The chain usually has a plastic pad for comfort so they don't feel hampered.
Disc Rope Swing Seat
The small swing does not take too much space. It is ideal for small backyards and plays areas. This model can hang from a strong tree or small sturdy base. Children can even stand on the disc and swing while standing. It is a guaranteed space saver but parents must always consider the safety of their kiddos.
Flat Swing Seat
The flat swing is not as commonplace as the bucket or sling types. However, some parents choose this model since the child can sit comfortably while swinging. There are children who want the robust feel of the flat swing and find it easier to balance on the seat.
Glider Swing Seat
The glider seat regulates swinging so children do not swing too high or fast. This kind of seat even allows two kids to swing simultaneously. Glider seats must be solidly built so movement is effortless and moderate. Gliders also cannot swing as fast as other models. The glider swing seat is ideal for younger children.
Kids swing sets can help children maintain balance, learn physical coordination and spatial awareness, but we also need to consider many factors when choosing the type of swing. If you want to know more about children's swing after reading the above content, you can contact us for a more comprehensive solution. At the same time, the children's swings we produce are of various types, safe and high-quality, which can meet your purchase needs.
As a professional manufacturer of
outdoor fitness equipment for children
, we are always committed to creating beautiful childhood memories for every child. We have a strong R&D department and a professional production management team, which can control the quality of our products in an all-round way. We will also provide corresponding customized services and develop effective solutions according to your needs. If you want to buy our kid's swing, please contact us immediately!