How to Properly Maintain Kids Swing?
Share
Issue Time

2021/07/20
Summary
kids swing needs regular maintenance to ensure the stability of the swing and reduce the risk factor. This article will specifically introduce the correct maintenance of kids' swings.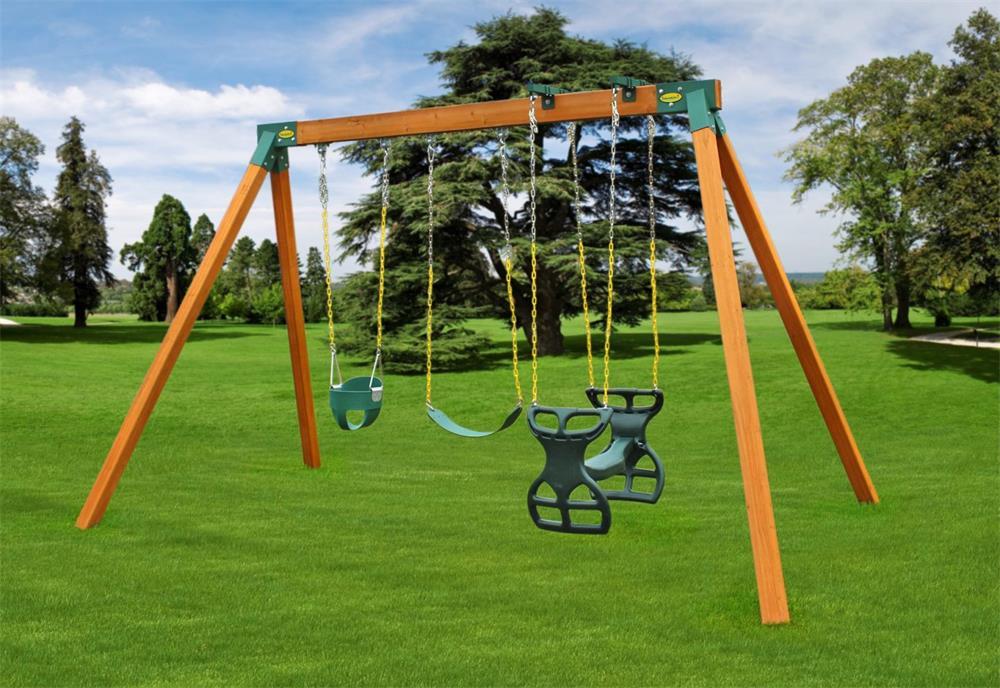 Maintaining the
kid's swing
device is an important step to keep the outdoor swing in its best condition and prevent accidents. To keep kids' outdoor playsets looking new, the following maintenance steps are crucial to the safety and integrity of kids' swing sets.
Within 60 days
Check and tighten hex bolts/t-nuts, carriage bolts/lock nuts, and lag screws within the first 60 days. In the future, these should be checked twice annually.
Within 90 days
Apply a sealant or semi-transparent stain with sealant within the first 90 days of owning the swing set. If applicable state laws allow, an oil-based product will protect the lumber better than a water-based product. Because climate conditions can vary drastically from region to region, we suggest asking the product covering specialists at any number of specialty paint stores or home improvement centers for a product that would work best for your local environment.
Annually
1.Apply a sealant or semi-transparent stain with sealant at the beginning of the season.
2.Inspect your playground on a regular basis. If any of the following conditions are noted, immediately remove, correct, or repair them in order to prevent injuries:
(1)Hardware that is loose or worn, or that has protrusions or projections.
(2)Exposed equipment footings.
(3)Scattered debris, litter, rocks, or tree roots.
(4)Rust and chipped paint on metal components.
(5)Splinters, large crack, and decayed wood components.
(6)Deterioration and corrosion on structural components, which connect to the ground.
(7)Missing or damaged equipment components, such as handholds, guardrails, swing seats.
Seasonal reminder
(1)If your area experiences regular snowfall, remove your fabric tarp/canopy to avoid stretching, sagging, or tearing of the material. Store it inside, folded up, and it will be as good as new when winter is over.
(2)If your area experiences extremely cold temperatures, remove swing belts and other pliable features to prolong the lifespan of these play activities.
Other tips
(1)To repel yellow jackets and wasps, use a cotton ball and dab interior wooden corners underneath the playset deck with a block of liquid dish soap. Avoid using insecticides.

(2)To speed up the slide wipe the center of the slide with wax paper every 2 - 3 weeks.
In order to ensure the safety of children during use, kids' swings should be checked daily. If any wear and tear are found, it must be dealt with immediately. If you want to know more about kids' swing after reading the above content, you can contact us for a comprehensive solution.
As a professional manufacturer of
outdoor fitness equipment for children
, we are committed to creating beautiful childhood memories for every child. We have an experienced team and staff who conduct comprehensive quality inspections from product design to export and can provide customers with high-quality and safe products. At the same time, we can continuously adjust and optimize new solutions according to the diverse needs of customers. If you are interested in our kids' swing and its services, please contact us immediately!