Types and Components of Kids Swing Sets
Share
Issue Time

2021/08/03
Summary
Kids swing set is the most popular outdoor facility for children. It is necessary for us to understand its structure. This article will introduce the types and components of kid's swings to help you better understand their structure.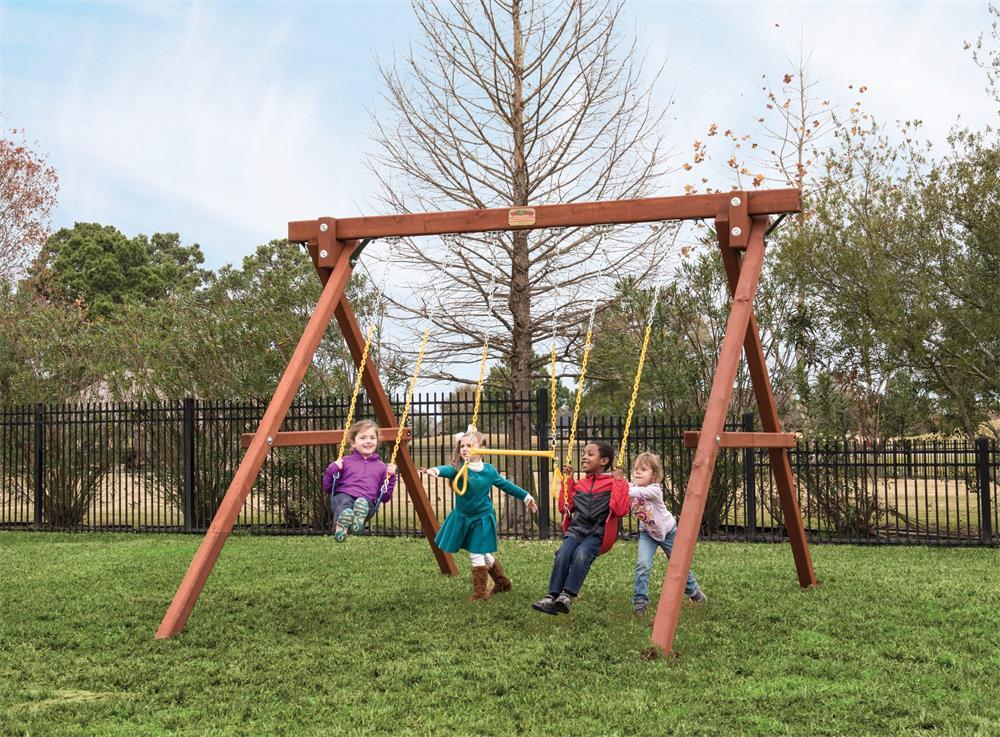 Swings are outdoor facilities that allow children to experience the feeling of flying to the greatest extent. Therefore kid's swings have become one of the most recognized and exciting game activities for children and their parents. The following introduces the types and components of
kids' swings.
Types of kids swing
(1)Full bucket swing seats
Full bucket swing seats are intended for use by children under 4 years old – and the adults who will push them. Some are available with a high back that provides additional support.
(2)Half bucket swing seats
Half bucket swing seats are designed for the older toddler through pre-schooler who has developed sufficient fine motor skills that he/she is in training for using a swing by themselves, but requires back support for extra security. These are typically available with an optional front safety chain.
(3)Belt seats
Belt seats are the most common swing seat of all and can be used by self-swinging children of all ages. Since they are made of flexible synthetic rubber or a flexible copolymer, they fold up around the swinger, helping to hold them securely while swinging.
(4)Flat swing seats
Flat swing seats are typically not advised for use on church or school playgrounds as they increase the likelihood of injury from the impact of unoccupied swinging swings. Also, because they do not fold up around the swinger, there is an increased possibility of a child accidentally sliding off the seat while in use. Increased playground supervision is essential when this type of swing seat is used.
(5)ADA approved swing seats
ADA-approved swing seats are available for use by children that require extra support while swinging. They are available in a variety of styles and configurations and are made from a variety of materials including copolymers, roto-molded plastics, and durable outdoor fabrics mounted to metal frames.
(6)Multi-axis swings
The most common multi-axis swing is the tire swing. It is typically hung horizontally from three chains that connect to a single swivel type hanger which enables both a swinging and a rotating motion that provides crazy fun for any kid! As tire swings are often large enough to accommodate more than one child at a time, they can provide a shared exciting experience.
Another type of multi-axis swing is the pendulum swing seat which can be hung to a swivel hanger using a single chain. Multi-axis swings require a great amount of room for safe use and should never be mounted with other swings in the same swing bay.
Components of swing sets
(1)Swing Beam - Constructed of either wood or metal, the swing frame supports the beam from which the swings are hung.
(2)Swing Hanger - Provides for the relatively friction-free motion of the swing by utilizing a replaceable pendulum that rides on a bronze bushing or, in the case of multi-axis swings, a greased universal joint.
(3)Connector - The connector from the chain to the swing seat is typically either an s-hook or a clevis (shackle). The clevis is preferred in this location as the small gap that is unavoidable with s-hooks represents a minor pinch hazard. S-hooks must be pinched closed to a gap not greater than 0.04 inches (about the thickness of a dime) prior to use.
(4) Swing Chain - Typically commercial-grade swing chain consists of 3/16" to 5/16" diameter welded wire links. The chain is either hot-dipped galvanized (a dull gray) or zinc plated (a shiny silver) to protect from rust. There are several methods to protect from pinching the skin between the links including the use of a short link chain, which reduces the gap between links, and plastisol coated or soft-grip coatings which cover the metal chain with a protective coating that joins the links together.
(5)Swing Seat - Regardless of the swing seat type, it is important to make sure it is of commercial quality. Residential quality swing seats are not sufficiently durable to be used in a church or school playground.
(6)Play Surface - A protective cushioned surface beneath and around the swing set is essential to protect kids from injury.
Through the specific introduction of the above kids' swing types and components, it can help parents choose a swing type that is more suitable for their kids' age group. If you still have doubts about the structure of kid's swing after reading the above, you can contact us for professional solutions.
As a professional manufacturer of
outdoor fitness equipment for children
, we have accumulated rich design and production experience in this field. We have an experienced production department and a strict quality inspection system for each link of product manufacturing, which can provide customers with high-quality and safe products. At the same time, we will also provide corresponding customized services according to the diverse needs of customers. If you are interested in our kids' swing, please contact us immediately!