How Do We Choose the Right Kids Swing in Garden?
Share
Issue Time

2021/10/28
Summary
If we can choose a suitable swing set for our children, we can ensure the safety and entertainment of the outplay set. Let's talk about how to choose the right kids' garden swing.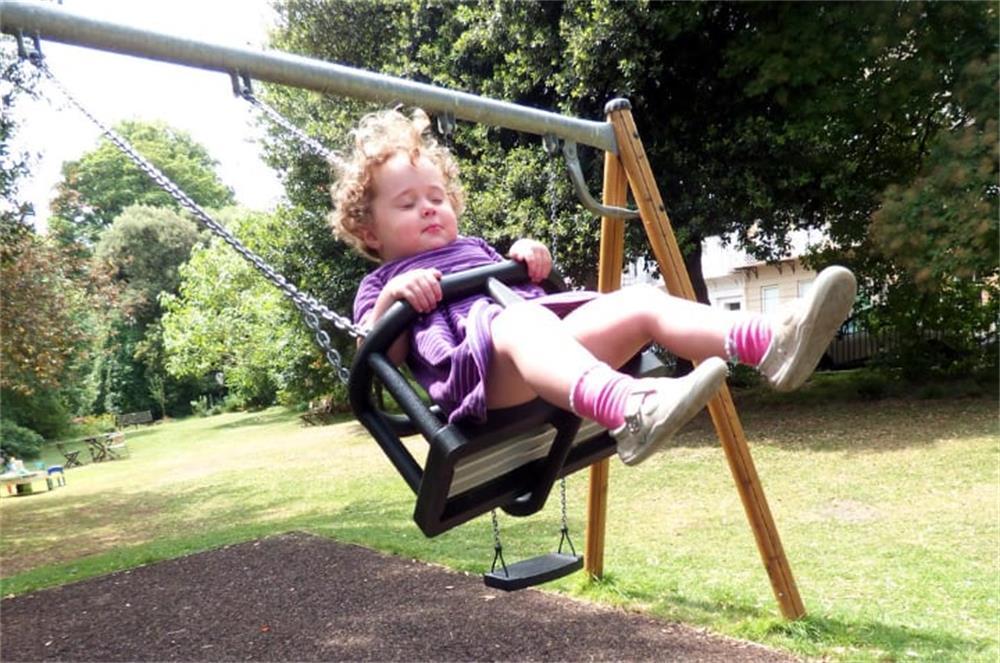 Choosing a
swing set
can be an overwhelming task – with so much choice, it's hard to know where to begin! This handy guide to buying a swing set for your garden will help you to determine the factors that will make the decision.
1. When preparing to buy a swing set, there will likely be a few things on your mind. The first and most obvious question that you should consider is whether your garden is big enough. Swing sets should have adequate surrounding room for the swing seat to reach its apex on each side, as well as space for children, adults, and pets to enjoy the garden around it.

Single Swing
Swing sets with just one seat are available in a range of sizes and so can suit children from toddler age all the way up to teens. No matter what age your children are, however, a high-quality single swing from BIG ELEPHANT PLAY will be a hit for years to come.
Double Swing
Double swings are perfect for families with two or more children as they maximize play space. Even if there's only one child in the family, a double swing allows a parent to join in with the fun and flexibly allows visiting friends to play as well. If your children are different ages, each swing is height adjustable to ensure that little ones can play safely alongside their elder siblings.
2. Because swing sets can become a long-term fixture in the garden whilst your children are growing up, choosing the right one is an important decision. Whether you choose a metal swing or a wooden swing, the swings provided by BIG ELEPHANT PLAY are very safe and stable, allowing you to rest assured that your child can play safely on the swing.

Metal swing set
Metal swing sets are generally cheaper than wooden ones and have the added benefit of not weathering quite so quickly. They are usually constructed from steel for durability and strength and are available in a variety of colors.
Powder-coated finishes prevent rust, but a metal swingset may still need general maintenance from time to time to repair chips and scratches to the metal. Another reason to choose a metal swing set is because of the ease of the build. The hollow metal parts are lighter than solid counterparts, so metal sets are much more convenient for a lone parent to assemble.
Wooden Swing Sets
Wooden swing sets have a natural beauty that is perfect for more traditional gardens, and they're often treated to prevent fungus and insects. However, they can require maintenance to stain and preserve the wood as, otherwise, they may be prone to fading, splitting, or warping over time.
Wooden swing sets are generally made from high-quality timber: either pine, redwood, or cedar, and are likely to be more difficult to assemble than metal due to the weight of the wood. They do have a great natural look, however, and are just as strong as metal sets.
3. Buying a swing set will significantly alter your children's playtime for the better, so when it comes to choosing exactly which piece to buy, it's important to consider all the options.
Outdoor playset

An outdoor playset is ideal for encouraging playing outside and, in the warmer months, kids will love using the structure for physical and imaginative play. Outdoor playsets usually contain a swing as well as other play equipment such as a slide, rock climbing wall, rope swing, or tower. They're great for larger families as they offer plenty of room for kids to play together.
Round nest swing
Round nest swings are most commonly seen in children's playgrounds but are also perfect for use in the garden. The versatility of nest swings makes them more likely to be used as the kids get older, and the large seat means that two or three children can swing at once.
Stand up, sit, or lie down, even add blankets and a book on a summer's evening, and a nest swing will add a whole new dimension to your garden. Nest swings are also the perfect swing for children with certain special needs as the swinging motion can teach children spatial awareness.
BIG ELEPHANT PLAY provides various types and specifications of outdoor amusement equipment, and the quality is safe and stable, and the service life is long. If you are interested in our products, you can search for related products on our website and contact us directly.
As a professional manufacturer of
outdoor fitness equipment for children
, we are always committed to bringing safe and beautiful childhood memories to every child. With an experienced manufacturing team and strict quality inspection system, we can provide customers with high-quality and safe products. We can also continuously optimize and adjust the design plan according to the needs of customers to provide each child with the most suitable outdoor facilities. If you are interested in our children's swing, please contact us immediately!