When Choosing a Children's Swing, What Factors Do We Need to Consider?
Share
Issue Time

2021/11/24
Summary
In order to ensure the safety of children's swings, we need to consider many things in the selection process. Today, let's talk about what factors need to be considered when choosing a children's swing.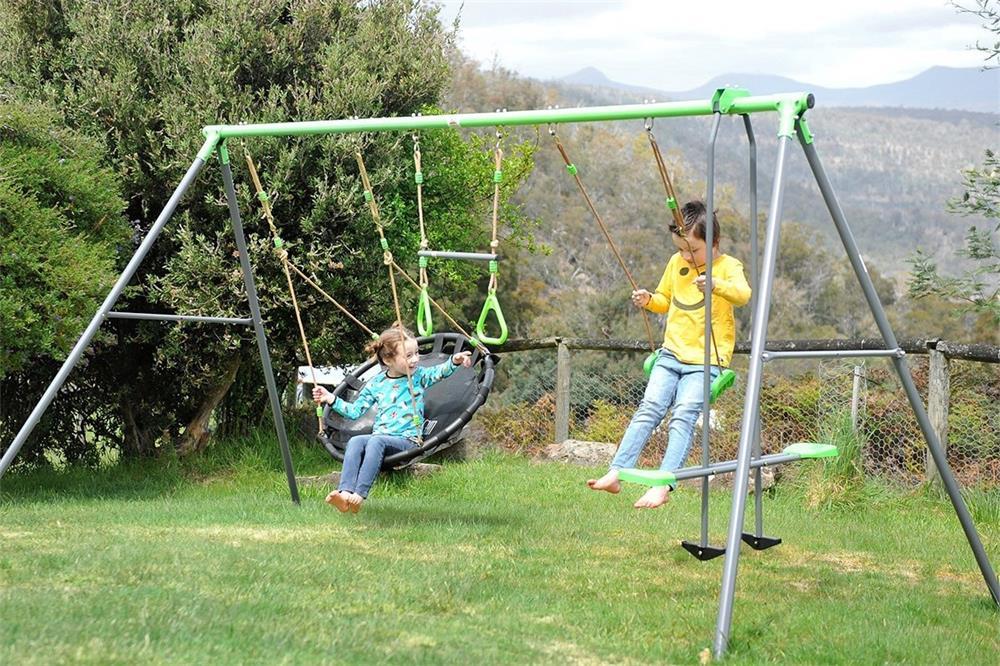 Children's swing
is a popular outdoor game facility. In order for children to ensure the safety of use, as parents, we need to consider the following factors in the selection process.
1. Keep in mind the proper safety zone precautions: we recommend at least 6 ft. of open space around the entire swing set.
2. Rubber mulch is the safest surface option for underneath swing sets. Unlike wood mulch, rubber mulch lasts a lifetime. It has great drainage, does not attract insects, and only requires a 3" depth. Wooden mulch requires twice the depth and needs to be replaced annually.
3. The amount of space you have in your backyard will help you figure out how large of a set you need. Determine what activities are most important. Monkey bars, for example, are a play set add-on that will require additional space.
4. Also, having an idea of the number of children that are going to be playing on the playset will help you determine the size of a playset. A standard swing set – that includes one clubhouse, three swings, and a slide – can generally accommodate 2 to 4 children, ages 2 to 12. If you are looking to provide a play area for more children you can consider adding an extra outdoor playset.
5. The age range of children playing on the swing set will also help you to determine the ideal size of your playset. Play decks and swing beam heights can vary to accommodate younger and older children, as can clubhouse sizes and inside standing height. If you are looking to play on the swing set with your children consider a model that is constructed for adults and kids, and allows for a taller tent top or wood roof.
6. Cedar or redwood is proven to be highly durable, yet cost-effective and is naturally resistant to rot and insect damage.
7. Examine safety features of the swing set
(1) Double-check to make sure the hardware is recessed. Exposed hardware causes potential dangers for the children playing on the swing set.

(2) Be sure the hardware is heavy-duty to prevent easy wear.
(3) Check the description mentions there are rounded corners and no sharp edges.
(4) Make sure the wood comes pre-sanded and stained on all six sides to prevent future splintering.
Children's swings are now a popular choice for children and parents. The children's swing designed and manufactured by BIG ELEPHANT is stable and safe and can provide a variety of options. If you are interested in our products, you can send us your needs, and we will give you a satisfactory answer in time.
As a professional manufacturer of
outdoor fitness equipment for children
, we are always committed to bringing safe and beautiful childhood memories to every child. With an experienced manufacturing team and strict quality inspection system, we can provide customers with high-quality and safe products. We can also continuously optimize and adjust the design plan according to the needs of customers to provide each child with the most suitable outdoor facilities. If you are interested in our children's swing, please contact us immediately!