What Factors Need to Be Considered when Choosing a Children's Swing with a Slide?
Share
Issue Time

2022/03/16
Summary
This article will specifically share the factors that need to be considered for children's swings with slides to avoid choosing inappropriate outdoor fitness facilities.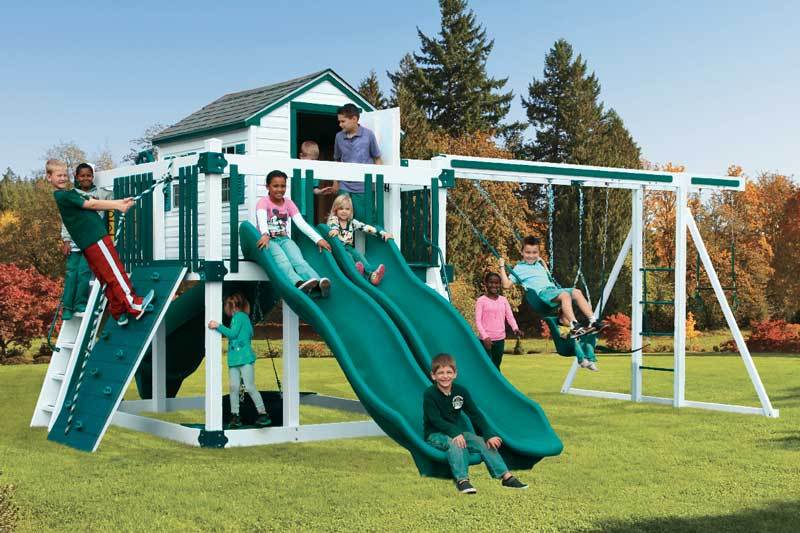 The
swing sets
with a slide are perfect for kids of all ages. They can develop strength and balance, practice coordination skills, and enhance their spatial awareness. However, before choosing a swing set with a slide, you need to make sure it is suitable for your family.
Whether you are buying a relatively simple swing set with slides or investing in a swing set with multiple slides and horizontal bars, you need to consider the following points.
1. Security considerations
Carefully evaluate how the swing device is constructed to ensure that there are no sharp edges. If you want to buy a wooden swing with a slide, be sure to ask if harmful chemicals are used to treat the wood.
To ensure the safety of your child, please choose a swing set made of high-quality materials and install it professionally.
For safety reasons, please consider choosing a wooden swing set made of the best materials such as high-quality vinyl and high-grade wood. These materials play a key role in eliminating safety hazards.
2. Available space
Before you buy a new swing with a slide, please consider the amount of space in your backyard. Swing sets come in different sizes and designs.
Therefore, you need to make sure that your backyard can adequately accommodate your favorite swing. Don't choose something too big, because it will bring you so many challenges during the installation process.
When planning your space, it is best to leave a buffer zone of approximately 6 feet around to avoid hazards such as fences and branches.
You also need to ensure that there is enough space between the installation area and other common parts of the backyard (such as the vegetable garden).
3. Materials
Most swing sets with slides are made of metal, wood, plastic, or a unique combination of these materials. Wooden swings with slides are the most common because they add a classic, natural look to your backyard.
Mahogany and cedar are the most ideal types of wood for these toy sets because of their natural resistance to pests and wind and rain.
Although wooden swing frames with slides tend to be well maintained, they usually need to be re-dyed every year to maintain their quality. Sometimes, wood can also rot and decompose.
A metal swing set with slide rails can provide better durability. However, you need to pay attention to the quality of the metal used in the construction and its protective coating.
Galvanized steel with powder coating usually has the best rust and weather resistance. The main purpose of the coating is to protect the frame from nicks and scratches.
The biggest risk of metal suits is heat. Metal frames tend to become too hot in the sun and may pose a risk of burns to children.
Most wooden and metal swing sets have plastic slides. Some other parts, such as the swing seat, are also made of plastic. Make sure that the plastic parts are hard enough to withstand severe weather factors.
4. Age range
Most manufacturers usually provide a recommended age range based on the size, material, and overall design of the swing/slide. It is important to buy a swing set with a slide that is suitable for your child's age.
Swings sets with slides designed for younger kids will have a 3-point or 5-point safety harness to hold the child tightly while he/she is swinging. The slides will also be much smaller, compact, and maybe slightly textured to reduce the risk of falls and chances of injury in case of a fall.
No matter what type of swing set is chosen, when children are playing, we need to be on the side to supervise them to prevent them from accidents.
As a professional manufacturer of
outdoor fitness equipment for children
, we have accumulated rich design and production experience in this field. We have an experienced production department and a strict quality inspection system for each link of product manufacturing, which can provide customers with high-quality and safe products. At the same time, we will also provide corresponding customized services according to the diverse needs of customers. If you are interested in our kids' swing, please contact us immediately!