How to Set Up a Monkey Bar in Your Backyard?
Share
Issue Time

2022/05/06
Summary
Monkey bars are also known as jungle gyms when installed correctly. They provide a sturdy structure that kids can enjoy as they climb the ladder rungs and swing on the overhead rungs. Here, we will introduce the installation of the monkey bar and more.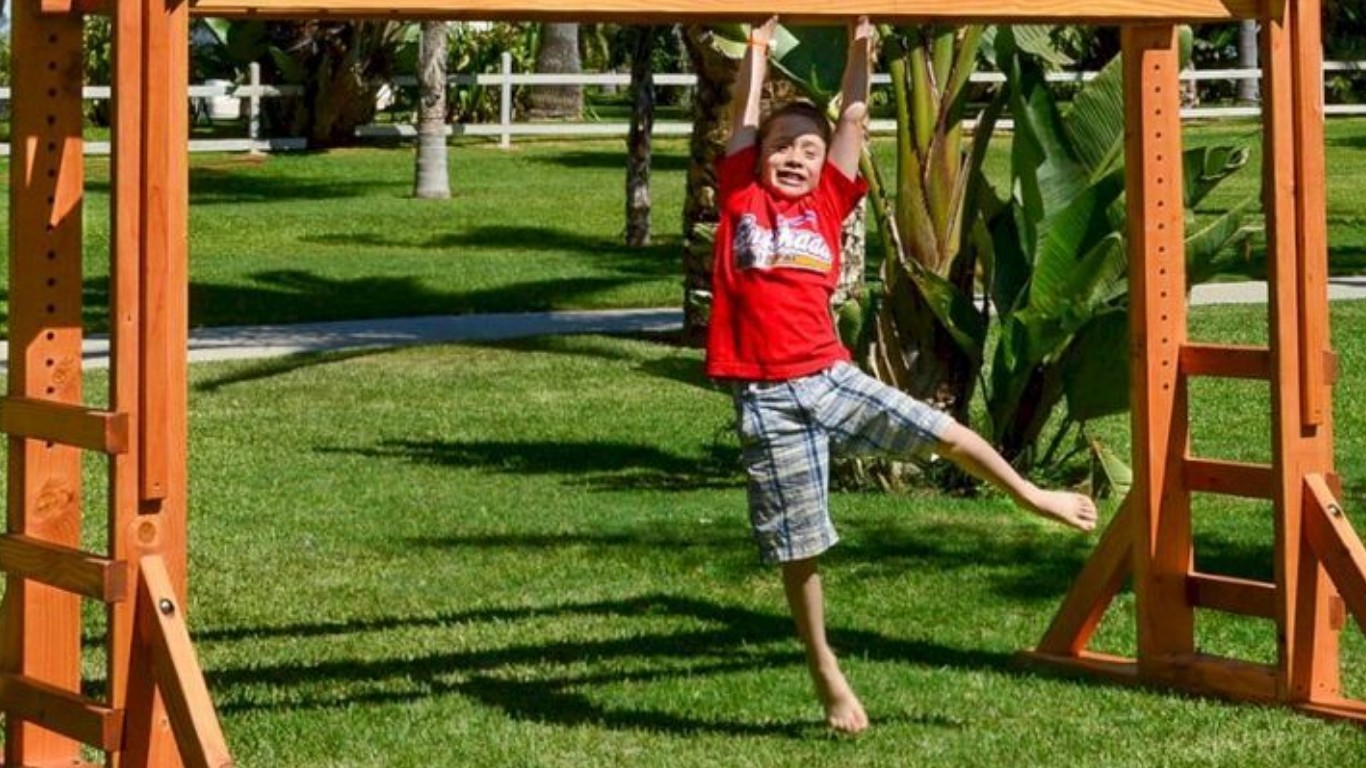 The
monkey bar
is also known as the jungle gym. They are usually located near or attached to a swing. When properly installed, they provide a sturdy structure that kids can enjoy as they climb the ladder rungs and swing on the overhead rungs. Here, we will explain the different types of monkey bars.
What are the benefits of monkey bars?
Physical benefits include:
Increase outdoor activities
Enhanced stamina and coordination
Strength conditioning and muscle development
Most importantly, have fun with family and friends
What types of monkey bars are there?
The vertical ladder is the monkey bar or jungle gym that most kids know. They are made of different materials, but the most common are metal or wood (or a combination of the two).
Other horizontal bar sets have climbing wheels instead of traditional metal bars and come in a variety of shapes, colors, and sizes.
Whether you're buying a pre-assembled bar set or planning to assemble it yourself, keep an eye on your bar when choosing the material and considering its longevity, considering the number of years you want to get rid of - we explain this in detail below.
What is the average lifespan of an outdoor monkey bar?
Depending on the type of material chosen to build outdoor monkey bars, they can last a relatively long time. The strength and durability of the metal monkey bar frame allow it to last longer.
If your climbing frame is made of galvanized steel or aluminum, it will last longer, provided there is no damage from water seeping in and causing rust.
However, if you choose pressure-treated wood, it can last 3-5 years. Woodprint FDN is designated as a material suitable for flooring use and is a safer option.
Borate-treated wood is the only variety considered safe for both indoors and outdoors. This is the best choice because it occurs naturally in all natural things: minerals in water, soil, and rocks.
The pressure-treated wood is now clearly marked. However, you want to avoid wood printed with L-P22. This is the most poisonous.
You also need to avoid wood printed with L-P2. It is less toxic than L-P22, but can also be used for direct contact with the ground.
With that in mind, we can now look at the sweet spot.
What is the best location for a monkey bar?
Ideally, the best place to place a monkey bar in your backyard is on a level surface. Whether your monkey bar frame is freestanding or ground-mounted, you all want it horizontal to ensure safe and optimal use.
It's also important not to place the bar too close to your home - so that no one accidentally bumps their head while climbing. Before you buy equipment and supplies to install the monkey bars, be sure to measure the area where they are located.
Since the monkey bar is relatively heavy, you need to determine the best location before you start building your backyard ride. Once it's built, you don't want to move it. A sturdy monkey bar frame on a solid surface will give your child the chance to climb while keeping them safe.
The above introduces some basic information about monkey bars, if you plan to buy monkey bars for your children, please
contact us
.
Big Elephant Play is a professional
custom children's outdoor sports equipment manufacturer
. We aim to provide 2.5 billion children around the world with fond childhood memories and healthier, more enjoyable lifestyles. Produced in strict accordance with international quality standards such as EN71/ASTM. At the same time, it also provides employees with a safe and happy working environment based on BSCI/SEDEX social responsibility standards.